364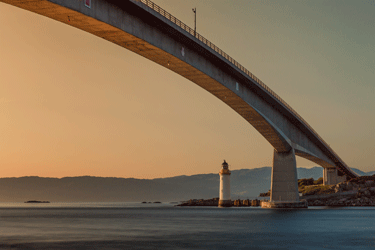 Dream Interpretation Crossing a Bridge
Dream interpretation Crossing a Bridge! Have you ever had a dream about crossing a bridge? If so, please share it.
I recently had a dream about crossing a bridge. Therefore, I began looking for online sources of: Dream Interpretation: Crossing a Bridge. I'm happy to say that I found a few. Following, please find a few dream interpretations of this symbol. I've included links to the original article under the excerpt. In some cases, the original article also includes a sample "crossing a bridge" dream interpretation.
In summary, I'd say that my understanding of this symbol: Crossing a Bridge, is that it signifies a time in your life when you're contemplating or have made a decision to make a change in your life. These tend to be large changes, such as quitting a job, rather than smaller decisions such as choosing one outfit over another.
Here are the dream interpretations I found online followed by my Crossing a Bridge dream and my interpretation of it.
By the way, I often consult the dream dictionaries for the meaning of dream symbols on the following websites, and encourage you to do so also when interpreting your dreams. In addition, I've only quoted a part of the whole section on crossing bridge dreams on these sites, so you might want to click on the link below the excerpt to read more.
Remember, though, in the end, your dream will be about your life and what's happening in your life. Therefore, you often have the "crossing a bridge" dream just after you've made the decision. Often, the dream will tell you your emotional reaction to the decision and also whether you will succeed, and if not, why not.
Crossing a bridge dreams can also relate to relationships in your life (the bridge connects you with someone else) and transitions you're going through(the bridge is taking you from one place to another).
If you'd like my suggestions for what your "crossing a bridge" dream might mean, please ask for my interpretation. Also, if possible and it's responsive to you, tell me a bit of what's going on in your life right now. Following, please find some interpretations from online:
Bridge 
To dream that you are crossing a bridge signifies an important decision or a critical junction in your life. . . If the bridge is over water, then it suggests that your transition will be an emotional one. If you fall off the bridge and into the water, then the dream indicates that you are letting your emotions hold you back and prevent you from moving forward.

Bridge

The bridge often has the significance of crossing or moving from one phase of life, activity or emphasis to another. . . It can also depict connection between yourself and another person, a relationship, a link between self and opportunity, yourself and change in life.

Broken bridge: A break in a relationship or connection. To drive off into space suggests a totally unexpected and emotional difficult situation. This is also a warning to watch out for difficulties ahead.

When you dream of crossing a bridge, it can easily indicate a number of things are going to change in your life. This may include changing jobs, place of residence, or even romantic partners. In general, if you were able to cross the bridge easily, and it was in good condition, then you can look forward to positive changes in your life. 
 By the way, if you're curious about my dream: In my dream, the sky was a beautiful blue color. The very high bridge was made of scaffolding and I was climbing easily over it. The bridge crossed a river, way down below me, that glowed like a ribbon of blue among green vegetation.
In interpreting my dream, I know that for me, based on previous dreams I've had and their meaning, a sky of a beautiful blue color means the dream is "true blue." The very high bridge could mean something of a high spiritual nature or something that, because it's so high, is difficult to cross or to do. Because the river below is blue (true blue again) and the whole scene is calm, including the beautiful blue sky, the new thing I'm undertaking is not causing me any emotional trauma. Green vegetation usually means healthy growth.
So next, I look to my waking life. What does this dream remind me of in my life? Well, I'm studying something new, which is quite difficult (the high bridge) and fits with the symbol of a bridge made of scaffolding that I have to climb over. In other words, the bridge is in the process of construction, just as I'm building this new skill I'm studying. Because I see healthy growth (the green vegetation) and because of the calm blue sky and water, I feel assured that my decision to begin this course of study is a good one for me. In fact, this new information I'm studying is making great changes in my life, which fits with the "crossing a bridge" dream symbolism.
For an interesting story about the power of a dream, you might enjoy my book When We Were Gods. In it I recount how my life totally changed when I dreamed about a stranger and saw him the next day in real life. He ended up being my husband, and we've been married for 20 years now. He is literally the "Man of my Dreams."This dream started a series of circumstances, because after we married, I became pregnant, miscarried, and started gaining weight at a phenomenal rate. I went to a hypnotherapist to lose weight. When she put me in deep hypnosis, I not only connected with previous lifetimes that contributed to my present problems with overweight, but also the fabulous world of Atlantis.
Take a deeper dive into the marvelous, mysterious world of dream interpretation. I know, there are often so many possibilities for the meanings of a crossing a bridge dream symbol. There are so many different kinds of bridges, different kinds of water, and different kinds of feelings while crossing the bridge. How do you choose which one applies specifically to your life?
That's why I made the easy, quick Three-step Checklist for Creative Dream Interpretation. For an easy, quick way of learning how to interpret your dreams, including a more efficient way of approaching dream dictionaries, please download the checklist by clicking on this link: https://CarolChapmanLive.com. When you register there, you'll be on my list, so I can send you emails announcing my occasional live online dream sessions. Happy dreaming!!!
Links to More of My Blog Posts on Crossing a Bridge Dreams. Dreams of crossing a bridge can have fascinating meanings. You'll find more interpretations on a number of my other blog posts at these links:
More Dream Interpretation: Crossing a Bridge
Crossing a Bridge Dream Continued Interpretations
Crossing a Bridge Dream Interpretation Continued
Carol Chapman
When We Were Gods
Arrival of the Gods in Egypt