2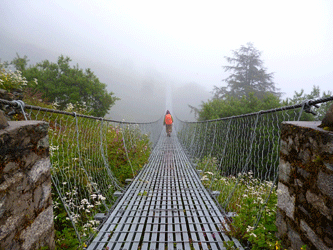 Crossing a Bridge Dream Continued Interpretations . . .
Here are more dream interpretations for "crossing a bridge." By the way, I keep a dream journal and pay especial attention to dream interpretation because I first met my husband in a dream. The story is in my book When We Were Gods.
Here's more info on "crossing a bridge." I include links to the dream interpretation articles because I only include a succinct condensation here.
Aunt Fly, which I mentioned yesterday, also says that if you dream of crossing a bridge, "times are going to become hard."
Uh oh, not too excited about that. Fortunately this is a long article with many different types of bridge-crossing dreams.
Aunt Fly also says that, "Dreaming of a bridge over water means that you are focused on being creative, it is important to work hard, be well-organized and keep busy." And, as you may guess, since I write books and make movies, I am involved in creative endeavors. The bridge in my dream was over water. I do need to improve my organizational skills!
Take a deeper dive into the marvelous, mysterious world of dream interpretation. I know, there are often so many possibilities for the meanings of a crossing a bridge dream symbol. There are so many different kinds of bridges, different kinds of water, and different kinds of feelings while crossing the bridge. How do you choose which one applies specifically to your life?
That's why I made the easy, quick Three-step Checklist for Creative Dream Interpretation. For an easy, quick way of learning how to interpret your dreams, including a more efficient way of approaching dream dictionaries, please download the checklist by clicking on this link: https://CarolChapmanLive.com. When you register there, you'll be on my list, so I can send you emails announcing my occasional live online dream sessions. Happy dreaming!!!
Links to More of My Blog Posts on Crossing a Bridge Dreams. Dreams of crossing a bridge can have fascinating meanings. You'll find more interpretations on a number of my other blog posts at these links:
More Dream Interpretation: Crossing a Bridge
Crossing a Bridge Dream Interpretation Continued
Dream Interpretation Crossing a Bridge
Carol Chapman
When We Were Gods
Arrival of the Gods in Egypt