Arrival of the Gods in Egypt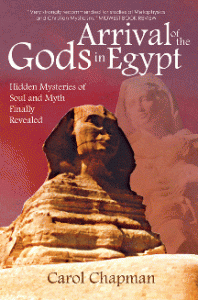 Arrival of the Gods in Egypt:
Hidden Mysteries of Soul and Myth Finally Revealed
"Discussing everything from the Egyptian creation myth to the origins of the Egyptian pantheon, Arrival of the Gods in Egypt is a must for anyone in need of an Egypt fix."
~ Midwest Book Review
During past-life regression, Chapman sees herself falling into the mouth of a snake to be transported from a sinking Atlantis to Egypt during the time when the pyramids were built. Intrigued with her past life hypnosis, she decides to visit Egypt to discover the meaning of her past life memories. In addition to decoding this and other mysteries from Egyptian tomb paintings, Chapman learns of the recent apparitions of the Blessed Virgin Mary in Egypt that are presently taking place in a city barred from tourists. Due to a lucky twist of fate, she gets to join the throngs of Egyptians gathered to watch the apparition. Arrival of the Gods in Egypt holds amazing adventures full of intriguing discoveries about mysteries both past and present.
Arrival of the Gods in Egypt: Hidden Mysteries of Soul and Myth Finally Revealed (ISBN-10: 0975469150 , ISBN-13: 978-0975469156, SunTopaz, 300 pages) is the follow up to When We Were Gods (the revised edition of The Golden Ones). The book contains 125 black and white illustrations/photos, a 10-page bibliography, and 11-page index.
Arrival of the Gods in Egypt is available in paperback from Amazon in most countries. The paperback is also available from many other online retailers as well as select bookstores. If you are ordering it from a bookstore, you will need the 13-digit ISBN (978-0975469156).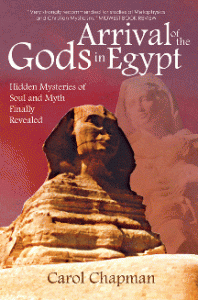 Amazon quick links:
In the U.S. from Amazon.com as a paperback.
In the Canada from Amazon.ca as a paperback.
In the United Kingdom from Amazon.co.uk as a paperback.