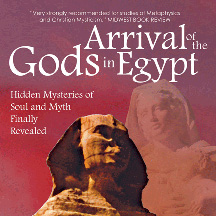 Reviews of Arrival of the Gods in Egypt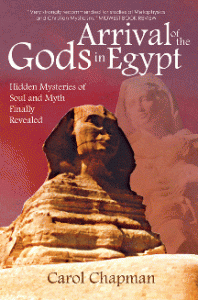 Here are some reviews of my second book, Arrival of the Gods in Egypt: Hidden Mysteries of Soul and Myth Finally Revealed.
Jean C. Keating
Pulitzer-Prize nominated author of Beguiling Bundle
"A fascinating story that makes sense as the basis of our religions, Arrival of the Gods in Egypt delves deeply into the mystery of Atlantis and our souls' beginnings on earth. Chapman expertly weaves the tale of a little known Marion apparition with an intriguing quest to discover evidence of Atlantis in the land of the pharaohs. By doing so, she reveals our true relationship with the Universe and offers hope for the future."
Day Schwartz
Co-moderator, The Edgar Cayce Forum
"Unknown for thousands of years, amazing mystical evidence of Atlantis found in the pharaohs' tombs plus the metaphysical mysteries of Mary's appearances make this a page-turner of a book so exciting readers can't put it down."
Midwest Book Review
"Ancient Egypt is of endless appeal to those fascinated with history, with so many remnants of their culture and not even modern Egyptians truly understanding the significance. "Arrival of the Gods in Egypt: Hidden Mysteries of Soul and Myth Finally Revealed" is a wide reaching anthology of stories focusing on Egypt and the spiritual and occult connotations that many find in the culture. Discussing everything from the Egyptian creation myth to the origins of the Egyptian pantheon, "Arrival of the Gods in Egypt" is a must for anyone in need of an Egypt fix."
(C) Midwest Book Revivew, 2008
Carol Haenni, PhD
Author of The Holy Women Around Jesus
"This fabulous story of the soul, mind and body, moving through a world where space and time are irrelevant, brings us face to face with the root races of humankind as they change from light beings to androgynous beings to mixed beings to human beings. Chapman takes us to Edgen, Egypt, Maya and places where apparitions of the Virgin Mary appear. Magnificent!"
Faye Roberts
Rapid City, South Dakota, US
"I recently read When We Were Gods and am finishing up The Arrival of the Gods in Egypt.  To say they were positively fascinating would be an understatement, and the ring of pure truth in your somewhat unconventional ideas was simply unmistakable.  My life will never be the same, and I now look at the world is a whole new way.. . . Thank you again for your time and for your wonderful, uplifting books that have given me so much to think about."
Claire Gardner
Archives Specialist, Edgar Cayce Foundation
It was a joy to read and be taken on an adventure that felt excitingly familiar, believable, and comfortable. Through your writing, you brought me into a timeline of another dimension and I emerge smiling, knowing. You are truly blessed, and through your writings…bless others. Thank you.
Joan M. Kelchner
Reader, Carlisle, Pennsylvania, US
"In Arrival of the Gods in Egypt book Carol refers often to passages in When We Were Gods. Her references sparked my curiosity so much, that I sent for her earlier book. Between the two, I found enlightenment about Biblical references. Such as, "Disobedience was the original sin. Lack of humility, which kept us within God's will, caused the Fall." The Fall was us going from a vibrational state to a physical state and becoming trapped in the physical. Our longing to go Home (Heaven) is the desire to become a Light Being, a vibrational being again. Wow!
"When Jesus says, "I died for you," he meant taking on the death of becoming human. He took physical form to show us "the way" out of the physical and back to the freedom of a Light Being. Amazing! I never understood that before! Such Love for humanity makes me feel humble.
"Your books clear up so much of my muddy thinking about Bible language and our origins. Also, reading about your experiences make me feel I'm on the threshold of something wonderful. A new way of thinking or perhaps understanding. I'm even beginning to understand the Edgar Cayce material more!
Thank you Carol."
Diana Swenson
Co-author of Pawprints On My Heart
"Did winged serpents bring displaced Atlanteans to Egypt and the Yucatan to create their advanced cultures?  In Arrival of the Gods in Egypt you will explore the possibility. The author has vivid memories of Atlantis and has followed them up with extensive research in this non-fiction history/mystery book."
Find out more about Arrival of the Gods in Egypt.