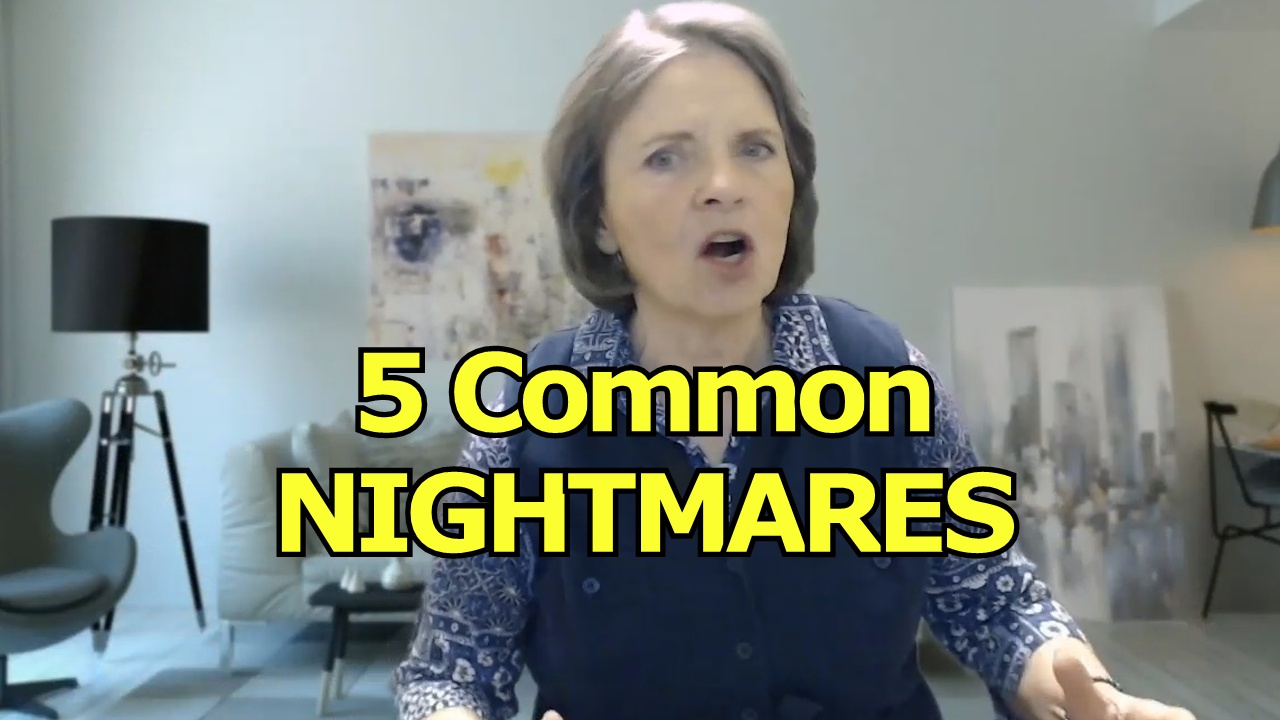 Five Most Common Nightmares and What They Mean
Five Most Common Nightmares and What They Mean include the following types of scariest dreams. They are: falling dreams, dreaming of drowning, your vehicle careens out of control, in a violent thunder storm, and being chased by something or someone that could kill you. Find the dream meanings below in the video:
Two More Common Nightmares and Their Meanings
Take a look at two of my previous blog posts on two other common nightmares and what they mean. They are:
Vivid Apocalyptic Dreams about the End of the World. Click Here.
What Does it Mean When You Dream About Yourself Dying. Click Here.
Guidance on How to Interpret Your Dreams
It helps to know some aspects of how to interpret your own dreams. That's because dream meanings cannot reveal the exact meaning of your specific dream, since your dream is specifically about you and your life. Dream dictionaries can only give you a general dream meaning. Therefore, I invite you to download my free 3-Step Creative Dream Interpretation Checklist at this link: Click Here. Or copy and paste the following link into your browser window:
TIMELINE of the Five Common NIGHTMARES and What They Mean Video
To find the dream meaning of each specific type of nightmare, just foreward the video to the times below:
0:00:05 next week: how to minimize the chance of having nightmares
0:00:35 a scary dream about falling
0:00:44 dreaming of drowning
0:01:03 a vehicle that's careening out of control
0:01:11 a raging storm with wind whipping and storm clouds
0:01:31 being chased by something that could kill you
ATTRIBUTIONS for Images and Video Footage Used in the Video
PHOTOGRAPH
Swedish high diver Arvid Spangberg, 1908 Olympic Games From The Fourth Olympiad, being the Official Report of the Olympic Games of 1908. London: British Olympic Association, n.d.
VIDEO FOOTAGE (in order, from beginning to end)
Rallye – 1295 (video)
Video by Vimeo-Free-Videos from Pixabay
Thunderstorm – 3127
Video by Vimeo-Free-Videos from Pixabay
DROWNING—WAVES OVERCOMING YOU
Caption/Name: POV shot of person swimming through ocean water, while waves break over them
Attribution: Vimeo, Inc.
DINOSAUR-1438
Video by Vimeo-Free-Videos from Pixabay
OUTRO
Animation: Grassy hill with chamomile and ladybird against the background of time-lapse heaven, beautiful 3d animation
Music under animation: "Really Fine Day," composer Mark Siegenthaler, Sony Cinescore, Sony Creative Software
ALL OTHER VIDEO FOOTAGE:
Copyright 2020 Carol Anne Chapman