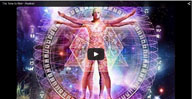 Meditation Video Inspires Hope for Peace
This is a gorgeous video that includes interviews with Greg Braden and Deepak Chopra.
The title, "The Time Is Now – Awaken," interested me since, while writing The Golden Ones, I had a very unusual experience similar to channeling. In the middle of the night, this other-worldly being told me I needed a different title for my book. Instead, it should be called, "Awaken – The Time is Now."
Therefore, I'm always interested in videos with a similar theme. This video not only has interviews, but also scientific evidence that meditation can influence people around us. For example, it shows the results of an experiment in which many people went into meditation in Washington, D.C. During the time the people were in meditation, the crime rate in the city plummeted. Amazing!
It's also a very well-made video. You'll enjoy it!
https://www.youtube.com/watch?v=iYyAXQPbs20