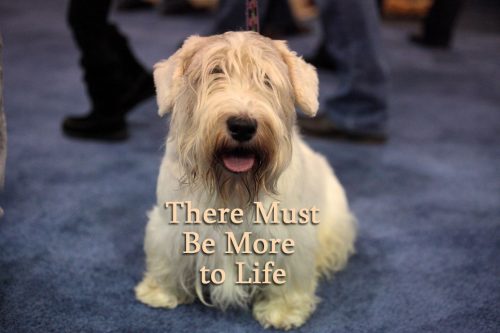 There Must Be More to Life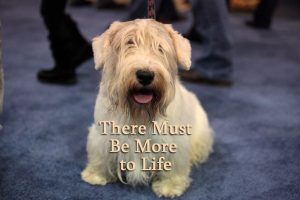 "There must be more to life than having everything," says Jennie, a discontented Sealyham terrier. So, she leaves home carrying her black leather bag with the gold buckles. She discovers that even though she has everything, she's missing Experience. Unfortunately, she needs Experience in order to fulfill her aspiration of being the leading lady in the World's Mother Goose Theater. And so begins her trek to find Experience, a word she doesn't even comprehend, "Never heard of it."
Although Maurice Sendak's Higglety Pigglety Pop or There Must Be More to Life is considered a children's story, I fell in love with it–specifically the recording of Tammy Grimes doing all the voices–when my children were young. At the time, we lived in Phoenix, Arizona, and used to borrow records (at the time, tapes, CDs, and digital downloads did not yet exist) to listen to at home. This was our favorite.
In fact, Amazon lists it as appropriate for 4 to 8 years of age. Actually, I still love it, and I'm way past 4 to 8 years old!
When reading the book, (and especially listening to it in the above recording), you feel love for Jennie. You love her obstinacy, her abounding appetite, and her compassion in trying to save baby's life. In addition, I find a note of melancholy among the humor in Higglety Pigglety Pop or There Must Be More to Life. In truth, this adds to the allure of the piece, because, after all, aren't our lives touched with melancholy among the humor, striving, sincerity, setbacks, and joy?
Evidently, Maurice Sendak wrote the book after his Sealyham Terrier, Jennie, passed away. In it's article honoring Sendak after his demise, the New York Times says:
Mr. Sendak's books were often a window on his own experience. "Higglety Pigglety Pop! Or, There Must Be More to Life" was a valentine to Jennie, his beloved Sealyham terrier, who died shortly before the book was published.
What a wonderful celebration of his beloved Jennie's life! What a wonderful way to deal with the passing of a loved one. Instead of dying, she merely left to pursue something better. Furthermore, she's still somewhere around. Unfortunately, she's lost her master's address, but if he should ever happen upon the theater where she's performing, he'd be most welcome.