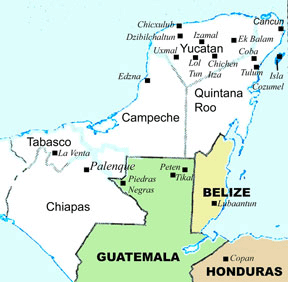 Mayan Civilization's Collapse: Deforestation
Does this sound familiar? Although this quote is excerpted from a Live Science article about the
ancient Mayan civilization in the rain forests of Guatemala, the reference to tree pollen being replaced by weed pollen sounds a lot like our present civilization.
I live in a rural area in the U.S., and everywhere around me, forests are being cut down to create subdivisions.
From pollen trapped in ancient layers of lake sediment, scientists have learned that around 1,200 years ago, just before the civilization's collapse, tree pollen disappeared almost completely and was replaced by the pollen of weeds. In other words, the region became almost completely deforested.
Aren't we cutting down trees and replacing them with cities, farms, and industrial regions? Don't most of us live in areas where tree pollen hardly exists any more? 
The above quote refers to the ancient Mayan civilization in the Peten region of Guatemala. According to a Live Science article, Ancient Mayan Canals Possibly Spotted in Satellite Images,  NASA climate scientist Bob Ogelsby at the Marshall Space Flight Center, learned from computer simulations that:
Without trees, erosion would have worsened, carrying away fertile topsoil. The changing groundcover would have boosted the temperature of the region by as much as 6 degrees, . . .
The article goes on to say that the basic cause of the Mayan civilization's collapse was because of ongoing food and water shortages brought on by a "combination of natural drought and deforestation by humans."  Could we be creating our own civilization's collapse by deforesting our land? Can we learn from the ancient Maya?
From my point of view, the most important thing has to do with the disregard for our dependence on the nature kingdom.