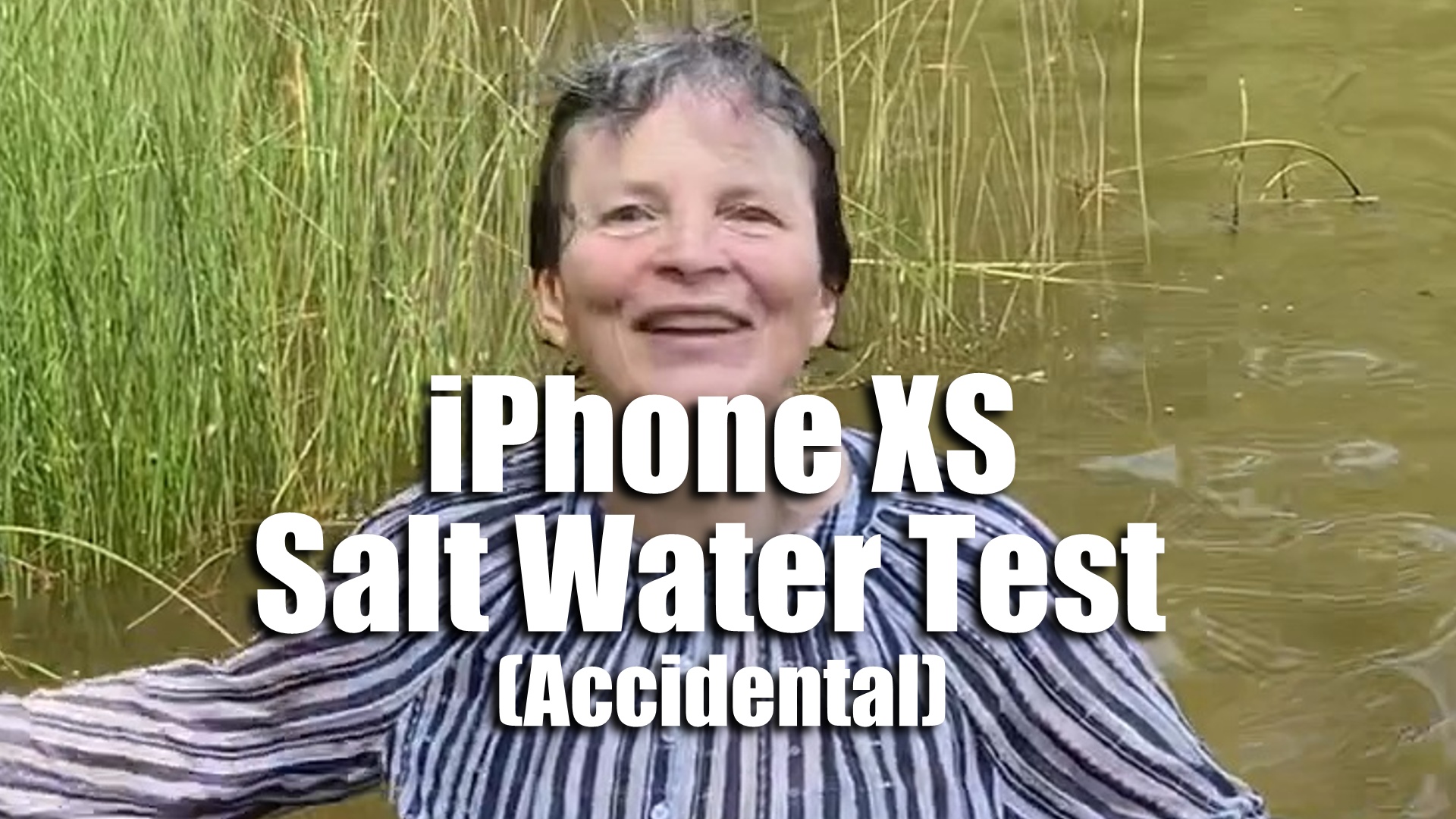 iPhone XS Salt Water Test – ACCIDENTAL!
iPhone XS Salt Water Test – ACCIDENTAL! I did not intend to do this iPhone XS Salt Water Test, but, accidentally, while videotaping, I knocked my iPhone XS into about five and a half feet of muddy salt water. It took me 28:18 minutes to find it. My iPhone XS continued to record video and audio throughout. The video below was taken with my wet iPhone XS just minutes after I lifted it out of the water. It was still wet and had mud on it. This is how this accidental iPhone XS Salt Water Test happened:
How my Accidental iPhone XS Salt Water Test Happened: 
I was using my iPhone XS to film a video for my Youtube channel at the end of the pier when I inadvertently tapped the foot of the tripod. As a result, it plummeted into the water, iPhone first. I stared in horror as the tripod slid into the water. Everything stood still as the last foot or so of the bottom of the tripod's legs hovered above the water before sliding in.
With only the thought that if the tripod becomes submerged, I'll have no way of knowing where to look for my iPhone, I leapt in, fully clothed, even wearing my socks and shoes.
Normally, I would never swim in this water, because it's so brown and murky and the neighbor says it has a lot of skates in it. Skates are big, stingray-type sea creatures with "wings." Also, I've seen a water snake swim out from under the pier a number of times.
My iPhone XS Came Loose from the Tripod When It Plunged Into the Water
Unfortunately, when I pulled the tripod out of the water, there was no iPhone attached to it. The iPhone had become dislodged from its clip.
I felt so excited to find myself treading water, that I needed to take a few minutes to breathe and calm myself. In my current state, I couldn't think. My breaths came hard and fast. I did have the idea to lay the tripod on the pier pointing toward the spot where I fished it out of the water, so that I'd know where to search for my iPhone.
Finally, I Calmed Down and Tried a Surface Dive
Eventually, I calmed down and figured out to try a surface dive, but I couldn't see anything beyond three feet in the murky brown water.
I realized that wasn't going to work. So, I decided to go back to the house to get my husband. He can swim much better than I can, has a pretty steady head on his shoulders, and has swim goggles.
I strode up the 65-foot hill and along the road to our house with much more energy than I usually have, panting the whole way. Normally, I'm worried about overtaxing myself, because I'm not as young as I used to be. However, I learned from this experience, that I'm more fit than I thought.
I Return to the House to Get my Husband's Help
When I got to the house, although I was still quite excited, I had enough sense to go around to the deck and knock on the patio doors instead of walking through the house dripping wet. My husband said afterward that when I arrived at the house, dripping wet on the porch, I looked really "adrenalized." His eyes looked big when he saw me. As I talked, he didn't move or say anything as he stared at me while I panted and dripped water fully clothed with my shoes on.
"Will you, please help me?" I said to break the trance he seemed to be in.
"Okay," he leapt up, "What do you need?"
I told him about how I'd lost my iPhone at the bottom of the inlet by the community pier. I asked him to come help me and, and would he please bring his goggles."
Immediately, he strode into the clothes closet.
"What are you doing?" I shouted, looking into the house through the open patio doors.
"I don't know where my goggles are," I heard from the closet.
I realized this could take a while, so I said, "Then, I'm going back down there. Come down even if you don't find your goggles."
A Brilliant Idea: Take Off My Shoes and Search for My iPhone XS with My Feet
Then, I went back down to the community pier while he looked for his underwater googles. Fortunately, by the time I got back down the hill to the water again, I had calmed down enough to figure out to take off my shoes and try to find the iPhone by feeling with my feet.
I walked into the water on the boat ramp side of the pier. The iPhone had fallen into the water on the poison ivy side of the pier. Therefore, I knew I'd have to swim around the end of the pier to the side where my tripod had gone over. Luckily, I'd had enough presence of mind to lay the tripod on the wooden pier pointing to the place where the iPhone went into the water.
As I swam, I noticed a group of about 50 bugs dancing along the surface of the water ahead of me. I kept glancing under the pier hoping that the water snake, if it was there, would not come out. I didn't see it, thankfully.
I Almost Give Up
Once I swam to the place where I believed the iPhone had fallen into the water, I slowly bounced up and down, from treading water to putting my toes on the bottom, in a grid pattern. Whenever my feet touched the bottom, I cringed, because I was stepping in about four inches of slime and mud. I also trod gently so that I wouldn't cut my bare feet on an oyster shell or twig. To tell you the truth, I didn't have much hope that I'd find it.
When my husband arrived, he hollered over to me from the shore that he hadn't been able to find his goggles, but he'd do his best to help. As he began to wade into the water, I felt grateful that I'd get some help finding my iPhone. By that time, I felt quite discouraged. I shouted back to him, "I'll never find it."
Just then, I felt something smooth under my toes. It felt like the smooth face of my iPhone. "I found it!" I yelled.
The iPhone XS Almost Slides Back Into the Water
As my husband waded closer to me, I grabbed the iPhone between my feet and raised it to the surface of the water. Then, I realized that I didn't have the physical ability to keep it on the surface with my feet while I treaded water with my arms. I couldn't fold myself at the waist so my hands could grab the iPhone. I called to my husband, who rushed forward in the water and grabbed it just before it slid out of my grasp. He gave it to me, the way a doctor gives a baby to its mother at birth. To my surprise, it was still videotaping, so I turned it off. In the video above, I included some of the video and audio from the iPhone while it was submerged.
Then, I handed the phone to my husband so I could swim around the pier and walk out of the water on the boat ramp. Because he's taller, he could more easily get step up onto the pier. He took the video of me, from on top of the pier, as I walked out of the water. The video is taken with my iPhone XS minutes after retrieving it out of the water. It was still wet and muddy.
I was exuberant!!!
The iPhone was in a "Symmetry" OtterBox, but the switches and cameras were exposed. In fact, the Otterbox is not waterproof. Therefore, it was the water resistant qualities of my iPhone XS that provided the underwater protection.
When we got home, I rinsed the charger port with distilled water and dried the phone in sunlight. I wiped the mud off. As you can see, the camera and audio still work. Plus, it still charges and connects to wifi. Everything else seems to be working just fine. Pretty amazing!
I Continue to Use My iPhone XS to Make Videos for My Youtube Channel
My accidental iPhone XS Salt Water Test occured on June 2nd, 2019. The videos on my Youtube channel, Carol Anne Chapman, which were published from October 9th to November 13th, 2019, were all shot with this iPhone XS after it had been in muddy salt water for 28:18 minutes at a depth of about five and a half feet. I will continue to shoot video with it. I love my iPhone XS!
I Highly Recommend the iPhone XS
I can attest that the iPhone XS not only shoots video and audio after 30 minutes in more than five-feet of water, but also, it still works even though the water was muddy salt water.
I highly recommend the iPhone XS! You never know when your phone is going to fall into five to six feet of water!
I hear that the iPhone 11 Pro is even better for water resistance: 4 meters (13 feet) for 30 minutes.
The Type of iPhone XS and Otterbox in This Video
Although I bought my iPhone XS Gold new from Best Buy, I see Amazon has them Fully Unlocked (Renewed) at a much lower price at:
This is the Otterbox I use:
ATTRIBUTIONS
MUSIC
YouTube Audio Library: Family_Montage_Biz_Baz_Studio_Rock_Inspirational
VIDEOS
CLOCK on black background
Clock – 15714
digitalblendllc
iPhone XS FOOTAGE
Copyright © 2019 Carol Anne Chapman
Carol and John Chapman, Camera
Carol Chapman, Editor