1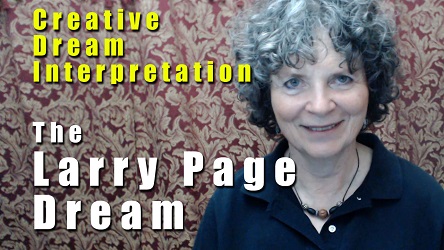 How Do You Interpret Your Dreams? Larry Page's Dream
How do you interpret your dreams? This question resonates with importance, because your dreams can bring you insights and guidance.
For example, Larry Page, co-founder of Google, derived the algorithm for ranking websites from a dream he had in his early 20's. If he hadn't done that first important step in interpreting his dream, who knows if we would even have Google today?
That Important First Step in Dream Interpretation
So, how do you interpret your dreams? In this video, Carol Chapman, creator of Creative Dream Interpretation, shows you that important first step. It's a step that Larry Page knew to take.
Furthermore, after you watch the video, you might want to scroll down further. There, you can listen to Larry Page's 2009 commencement address at his alma mater, the University of Michigan. He talks about that important first step in interpreting your dreams: to write them down. Otherwise, how do you interpret your dreams if you can't remember them?
Click on this the link to get the Three-step Creative Dream Interpretation Checklist: https://CarolChapmanLive.com that Carol talks about in her video.
A Fantastic Book with a Great Chapter on Dream Interpretation
If you're interested in learning how to access inner guidance through interpreting your dreams, I highly recommend Awaken Your Inner Voice by Nancy C. Chrisbaum and Ellen L. Selover. In this book, you will not only learn how to work with your dreams but will also discover such methods as meditation, energy healing, and past-life recall. I especially like it, because it is full of stories of people using these techniques and their results.
Paperback:
Kindle:
VIDEO TIMELINE and Statistics
0:24.5 Larry Page is the co-founder of Google.
0.51.3 He is one of the richest people on earth.
1:22.2 He attributes some of his genius to his amazing dream.
1:43.2 He awoke in the middle of the night with a vivid dream.
1:49.1 He feared that if he didn't write it down, he'd lose it.
2:13.4 The simple, easy thing you can do to interpret your dreams
2:30.8 The details in the dream go sliding away.
2:44.1 Dreams are a product of your subconscious mind.
2:54.9 When you write your dreams down
3:18.3 But that's just the first step . . .
STATISTICS: Forbes.com Riches List, April 2016
PHOTO OF LARRY PAGE: Stansfield PL, Wikipedia Creative Commons
ANIMATION: Grassy hill with chamomile and ladybird against the background of time-lapse heaven, beautiful 3D animation: AlexeyKuzin@123rf.com
MUSIC:
Introduction: "On the Border," Bruce Zimmerman composer/ZimMusic Production Music Library, used with permission
Middle: "Room Full of Tears," Composer/James Johnson, Sony Cinescore royalty free music from Vegas Movie Studio 9
End Piece: "Really Fine Day," Composer Mark Siegenthaler, Sony Cinescore royalty free music from Vegas Movie Studio 9
Larry Page's Dream – Google Co-founder tells his dream story at U of Michigan commencement exercises