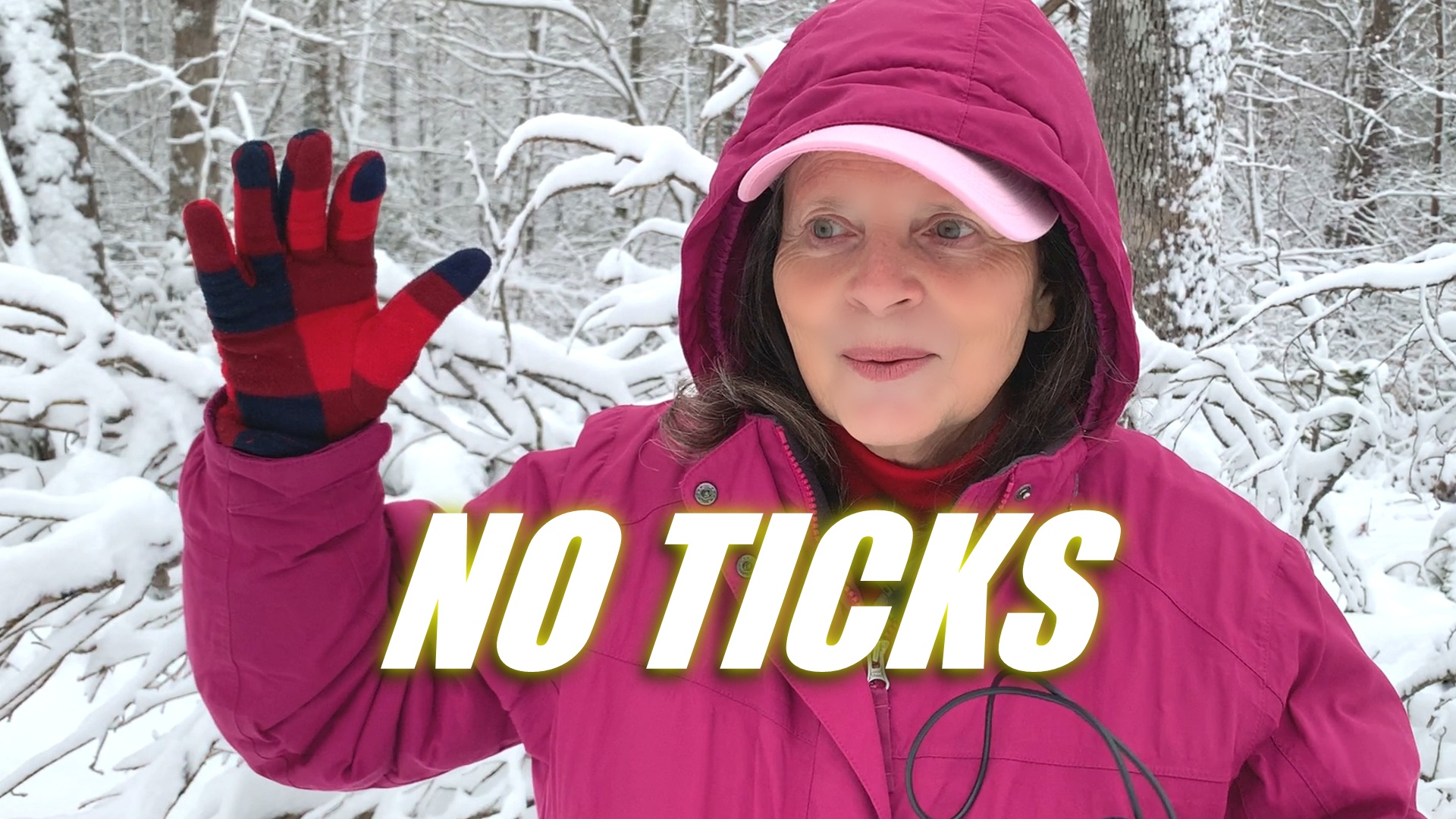 Don't Get BIT by a TICK
Don't get bit by a tick! The great thing about walking in the woods in winter is that you don't have to worry about insect bites – no tick bites, no mosquito bites, no bee or wasp stings. It's my favorite time, because I got Lyme disease from a tick bite a couple of years ago. As a result, I'm extra paranoid when I go hiking in the woods. But when snow covers the ground, no bug can getcha! Yay!
If you dislike going outside because of insect bites, if you worry about harmful effects of insect repellent, take a look at the video below:
Link to article on black-legged tick pathogens, click here.
TIDE CODES for the video, Don't Get Bit by a Tick
Go to the time in the video to find the topics below:
0:00:00 A couple of years ago, I got Lyme Disease.
0:00:48 Different kinds of Lyme Disease.
0:01:08 I never walk in the woods when nymphs are hatching.
0:01:36 Lyme Disease symptoms: It started with a hive on my skin.
0:02:06 I thought I had to go to the Emergency Room.
0:02:30 Never fully recovered.
0:02:45 Don't get Lyme Disease – advice from my doctor.
0:03:06 Get an antibiotic within 24 hours of a tick bite.
0:03:50 Why walk in the woods in snow – no tick bites!
0:05:23 Link to winter hiking tips: how to keep warm in snow
0:06:00 Pan's message: appreciate nature more.
ATTRIBUTIONS for the Video
PHOTOGRAPHS (in order from beginning to end)
Bulls Eye Lyme Disease Rash by James Gathany, CDC (Public Domain)
Highlighted part of Article, Human pathogens associated with the blacklegged tick Ixodes scapularis: a systematic review from the U.S. National Library of Medicine, National Institutes of Health:
https://www.ncbi.nlm.nih.gov/pmc/articles/PMC4857413/#:~:text=Blacklegged%20ticks%20harbored%2091%20distinct,%2C%20Rickettsia%2C%20Theileria%20and%20Flavivirus.
Ticks Life Stages (Ixodes-ricinus-life-cycle) by Alan R. Walker, Wikipedia
https://commons.wikimedia.org/w/index.php?curid=19033711
Lemon Poppyseed: Image by pixel1 from Pixabay
Hives: Hives2018 by James Heilman, MD, Wikipedia
James Heilman, MD, CC BY-SA 4.0 <https://creativecommons.org/licenses/by-sa/4.0>, via Wikimedia Commons
Pan Lord of the Wild: "Sweet, piercing sweet was the music of Pan's pipe," by Walter Crane (Public Domain) Wikipedia Commons
MUSIC (in order from beginning to end)
Drone in D by Kevin MacLeod, YouTube Audio Library
Drone in D by Kevin MacLeod is licensed under a Creative Commons Attribution 4.0 license. https://creativecommons.org/licenses/by/4.0/
Source: http://incompetech.com/music/royalty-free/index.html?isrc=USUAN1200044
Artist: http://incompetech.com/
Ask Rufus by Audionautix, YouTube Audio Library
Ask Rufus by Audionautix is licensed under a Creative Commons Attribution 4.0 license. https://creativecommons.org/licenses/by/4.0/
Artist: http://audionautix.com/
Bring Me Your Sorrows by Dan Lebowitz, YouTube Audio Library
VIDEO FOOTAGE
All video footage Copyright 2021 Carol Anne Chapman