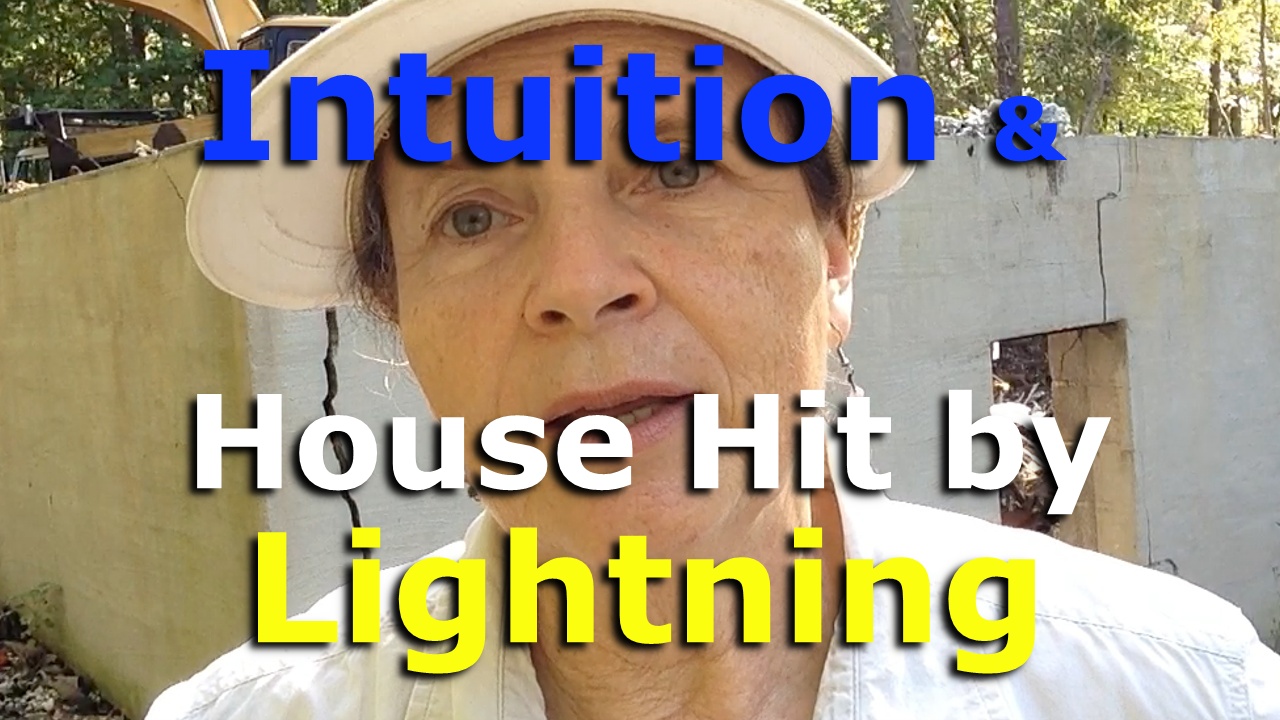 Advantages and Disadvantages of Intuitive Decision Making
I learned one of the really important advantages and disadvantages of intuitive decision making when I ignored my intuition and the house got hit by lightning.
When my husband and I had been looking at the house to buy it, I heard and saw the biggest "NO" in my mind as we drove away from viewing the house. But, of course, my husband and I bought the house anyway, because we like it so much and couldn't image what could be wrong with it.
Well, it wasn't that there was something wrong with the house. It's that your intuition can know way more than you can know consciously or emotionally.
In fact, I can't believe our house was hit by lightning. I felt more than very sad. I felt discouraged and humiliated as if the Universe had struck us down with a bad omen. The following video shows the devastation caused by the lightning strike.
LIGHTNING CATASTROPHE: House Hit by Lightning
Fortunately, no one died in the fire. But, the house was a total devastation zone. It was truly a lightning catastrophe. Nothing was salvageable: even the foundation was destroyed by the explosion, the fire was that hot—so scary!
It wasn't until the clean-up crew, a man with his excavator, came to haul away the damage that I could even talk about how bad I felt.
Advantages and Disadvantages of Intuitive Decision Making
One great advantage of intuitive decision making: You can know much more through your intuition than you can through making decisions through logic or emotion
One great disadvantage of intuitive decision making: You have to follow it.
It was painful, but I learned how important it is to follow your intuition.
TIMELINE of the Video:
0:00.0 Intuitive Guidance
0:29.6 House before it was hit by lightning
0:36.6 Biggest intuitive "No!" of my life
1:05.9 On a dark and stormy night
1:42.8 House after it was hit by lightning
1:58.8 The "Finger of Fate"
2:48.7 Excavator begins lifting out debris
3:14.4 New house will have lightning rods.
4:10.0 I'm going to follow my intuition.
ATTRIBUTIONS FOR THE VIDEO:
INTRO and OUTRO:
Video and Music: Hanging Lights Loop, VIDDYOZE
LIKE COMMENT SUBSCRIBE:
Video and Music: Text Pop Tree Lines, VIDDYOZE
OTHER MUSIC:
At the beginning: Coming_Home by Dan Leibowitz, YouTube Audio
At the end: Bring_Me_Your_Sorrows by Dan Leibowitz, YouTube Audio
B-ROLL VIDEO AND STILLS INCLUDING SOUND FX:
Rain and Thunder:
Rain-305: Footage by Vimeo-Free-Videos from Pixabay
https://pixabay.com/videos/rain-thunderstorm-lightning-clouds-305/
Lightning Flash:
Flash-2568381_1920: Image by 012 from Pixabay
https://pixabay.com/photos/flash-thunderstorm-super-cell-2568381/
House Burning:
Embers – 8625: Footage by KlausHausmann from Pixabay
https://pixabay.com/videos/embers-glow-fire-heat-campfire-8625/
House smoking:
Smoke – 10889: Footage by Life-Of-Vids from Pixabay
https://pixabay.com/videos/smoke-ember-fire-black-gas-fog-10889/
PHOTO OF ORIGINAL HOUSE:
Copyright © 2013 John Chapman, used with permission
MAIN VIDEO FOOTAGE:
Carol and Excavator: Copyright © 2015 Carol Anne Chapman