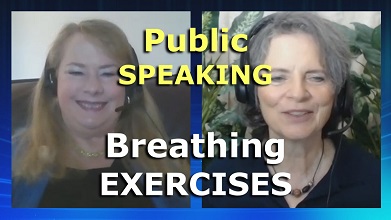 Public Speaking Breathing Exercises from Stress Expert Dr. Steph
Public speaking breathing exercises are easy to do as author/speaker Carol Chapman discovers when she interviews stress expert Dr. Stephanie Stanfield. Dr. Steph says that by using belly breathing, you can move yourself out of the sympathetic nervous system, which causes a fear reaction, into the parasympathic nervous system, which causes a rest and relaxation reaction.
ABOUT DR. STEPH
Stephanie Stanfield, Ph.D., stress expert and energy therapy practitioner, shares her vast experience and research of health, healing and stress management in an entertaining and educational format.
She lectures at the college level, is a Toastmaster, and has a private counselling practice.
In addition, Dr. Steph is the author of a series of Kindle books, "Stress Buster Secrets." The first in the series is called, "Shake Stress, Master Wellness," and is available on Amazon at http://amzn.to/2hA2qo8 [affiliate].
Click here or use this link, https://CarolChapmanLife.com/6bna, [affiliate] to schedule a free private session with Dr. Stephanie Stanfield. She'll be happy to help you discover how to speak in public with confidence.
VIDEO TIMELINE of Public Speaking Breathing Exercises
00:34.290 Sympathetic and the parasympathetic nervous system
01:05.790 sympathetic is your fight, flight, or freeze.
01:34.579 deer-in-the-headlights, frozen.
02:21.410 Parasympathetic is relaxation, its rest, it's digest
04:18.770 How to do belly breathing
05:21.600 your diaphragm pulls your lungs down
06:21.330 Breathing in, count to four, and when . . .
06:46.440 That quiets the mind
07:41.760 How can people get in touch with you?
Music: "On the Border," Bruce Zimmerman composer/ZimMusic Production Music Library, used with permission.
ABOUT CAROL CHAPMAN
Carol Chapman is an author, inspirational speaker, and the creator of the online course, "Speak and Sell Books," available at https://CarolChapmanLive.com/Speak.
As a speaker, Carol talks at weekend retreats, day-long events, and half-day programs. Her seminars are not only informative and transformational but also fun and entertaining.
They often include participatory workshops and visual aids, such as videos and photographs. She specializes in dream interpretation, reincarnation, Atlantis, and, for authors, how to sell books while speaking.
Formerly a photojournalist under contract to NASA, her photographs have appeared in magazines and newspapers throughout the world. She is the author of When We Were Gods, Arrival of the Gods in Egypt, Have Your Heart's Desire, and the forthcoming Kindle series, "Public Speaking Tips for Authors" and "The Public Speaking Guide."
The links above may be an "affiliate link." That means that if you click on the link and purchase the item, Carol Chapman may receive an affiliate commission. Carol says, "Please understand that I only recommend products or services I believe will add value to my viewers. I am disclosing this in accordance with the Federal Trade Commission's 16 CFR, Part 255: "Guides Concerning the Use of Endorsements and Testimonials."