Find Out How Any Author Can Deliver and Sell More Books By Speaking …
Even if you're scared silly by the thought of public speaking, and have no idea how to put together and deliver a live talk!
Just Imagine

- Sell More Books
Carol Chapman's 14 Module Video Course

that will teach you how to sell from the stage!

About This Course: This course gives you a reliable model for preparing and delivering effective talks that sell books. If you're a beginner, this course will help you quickly master the fundamentals of speaking and selling. If you're a seasoned speaker, this course will help you sell more books from the platform.
The Joy of Experiencing Success as a Public Speaker
Feel comfortable and confident while speaking
Enjoy making money from book sales
Delight in helping others through the information you share
Feel satisfaction over adding another capability to your marketing abilities
Discover another skill to add to your publish-ability platform as an author
About Carol Chapman...
Carol Chapman is an author, inspirational speaker, and the creator of the online course, "Speak and Sell Books." In 2000, when a stranger learned that Carol's first books was in the publishing process, she invited Carol to speak to her group. That's when Carol learned that when you're an author, you never know when you'll be invited to speak. She's been speaking ever since—as the keynote speaker at weekend retreats, day-long events, and half-day programs. During that time, she's honed her speaking and book-selling skills. Now, she's sharing them with you.
Formerly a photojournalist under contract to NASA, her photographs have appeared in magazines and newspapers throughout the world. She is the author of When We Were Gods, Arrival of the Gods in Egypt, Have Your Heart's Desire, and the forthcoming Kindle series, "Public Speaking Tips for Authors."
Sell More Books From The Platform Course Outline
Module 1 Reveals
How to Give a Speech: The author advantage, your bio and what to and what not to talk about!
Module 3 Reveals
Vital Questions: What to ask your organizer about your audience. Be prepared for questions your organizer will ask of you.
Module 5 Reveals
How to Sell Books while Speaking: Add the subtle book-selling methods you learned in Module 2 into the structure of your speech.
Module 7 Reveals
The Q & A Session: Pitfalls to avoid, including what to do when you don't know the answer to a question.
Module 9 Reveals
PowerPoint, Part 2: Sell more books with your slides during your speech and prior to the book signing.
Module 11 Reveals
Handouts: 3 essential handouts, and 2 optional ones that help you grow your fan base and get testimonials.
Module 13 Reveals
A Case Study: An actual event, including how to sell books in a place that doesn't allow product sales.
Module 2 Reveals
Sell More Books: How to effectively, but non-obnoxiously sell books while speaking. Easy, simple tips and tricks.
Module 4 Reveals
Your Talk's Structure: The easy, time-saving way to put together your talk so you have to do less research to prepare your speech.
Module 6 Reveals
Speech Day: What to expect, how to approach your audience, your responsibilities, and how to make things easier on yourself.
Module 8 Reveals
PowerPoint, Part 1: How to make your slide presentations awesome with photos, fonts, and layouts.
Module 10 Reveals
The Book Signing: Financial plans for book selling, the book table, and how to sign your books.
Module 12 Reveals
Where to Find Places to Speak: How to find speaking opportunities or organize your own event.
Bonus Module
Handling the Fear: Three easy techniques to help you feel more confident when speaking in public.
THIS COURSE IS FOR YOU IF YOU ARE
... an author with any type of book, no matter whether it's a published physical book, or a (Kindle) ebook. Even if you're just starting out with a soon-to-be published book that you're in the process of writing!
A special Bonus for
Every Author!
FREE BONUS Course MP3 Recordings Learn On the Go With a MP3 recording of every course module!
Carol's proven path to selling more books by speaking will help you monetize your passions, feel great about yourself and have some fun along the way.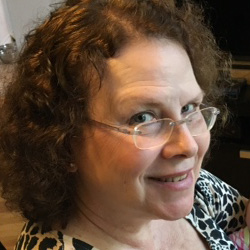 Sheila PetrachenkoPhysical Therapist, Barrie, ON, Canada, sheilasphysio.com
Extremely Helpful! Carol Chapman is clear and concise. She walked me through the steps for preparing a great presentation and guided me to make an outline and handout for my audience. Drawing on her years of experience, she shared the process that she herself devised after years of trial and error. This will save you a great deal of frustration and alleviate your fears of public speaking. Carol will teach you how to prepare an appealing presentation precisely and effectively. Highly Recommended!!
100% MONEY BACK GUARANTEE
---
Here's my personal guarantee... You've got 30 days to go through these jam-packed, content-rich video modules and learn how to Sell More Books by Speaking. If you're not happy, just let me know before the 30 days are up and I'll refund 100% of your investment.
With 14 modules, over 4 hours of content, MP3s, checklists, and templates, you'd expect to pay $197 or more for this jam-packed course. But, we wanted to make sure that all budding authors could get a good start selling more books from the platform, so we're making this outstanding program available today for $97.00
This includes lifetime updates and any additional modules and resources. So, act today before the price goes up.
More...