The 40-Day Manifestation Prayer can bring you your heart's desire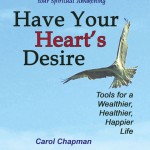 I'm doing a 40-Day Manifestation Prayer right now. It's going well, although I missed day 11 when I first started. You have to start all over again if you miss a day. So, I started again, and now I'm on day 15.
Are you doing a 40-day prayer now? The prayers are in Have Your Heart's Desire. The Kindle ebook of "Hearts" is presently free on Amazon. Have you ever done a 40-Day Manifestation or Forgiveness Prayer?