2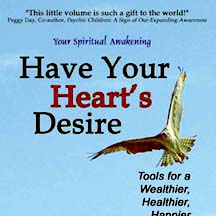 Law of Attraction: The 40 HOUR Prayer vs. the 40 DAY Prayer
I recently received a message from a reader, asking me about the 40 Day Prayer. The reader wanted to know how to use it in an emergency as a 40-HOUR Prayer. The 40-Day Prayer is one of the powerful prayers in my latest book, Have Your Hearts Desire. Here is part of the message I received:
I bought the kindle version of hearts desire and noticed the 40 hour emergency prayer but no reference on how to do it in an emergency situation."
 OK, the 40-hour emergency prayer. First, 40 days is always best. If you're intending to do the prayer in 40-hours, because you don't want to bother doing it for 40 days, or you want results immediately, you might be pushing your subconscious which works in mysterious and subtle ways. As I said in Have Your Heart's Desire, with the subconscious you can't expect the same results as with the conscious mind. With the conscious mind, you can add this to that and get a consistent result.
The subconscious is more powerful than the conscious, but is also as unpredictable and as uncontrollable as a dream. Therefore, if you really are not in an emergency, I'd go with the 40-day prayer to allow the subconscious mind to work in its own way.
However, if you really are in an emergency, then follow all the directions for the 40-hour prayer as for the 40-day prayer, such as:
saying or writing it only once an hour
If you miss an hour, start from the beginning
don't think about it the rest of the hour but say "thank you" if you start obsessing or worrying
don't tell anyone that you're doing the prayer or what the prayer is about
etc.
You may want to set an alarm to wake you every hour during the night or, you might consider praying it every waking hour. Check in with your intuition whether to wake yourself through the night or not.
You didn't mention if you're doing the Manifestation Prayer or the Forgiveness Prayer. If it's the Manifestation Prayer, remember to keep your words positive.
How does the 40-day (or 40-hour) prayer work? I don't know. I only know it has worked for me and for others. And, that Everett Irion, who created the prayers, was a devout student of Edgar Cayce's psychic readings. He said he received his inspiration for the 40 day forgiveness prayer in a dream.
In addition, I also know that the Manifestation Prayer is based on the Law of Attraction. One man who used it, and received great results, emailed me to say that he thought it worked on repetition – that the subconscious makes a new thought pattern or habit through repetition. It makes sense that since thoughts create, the prayer works by repeating the same thought over and over again. That could be it.
Remember, don't expect anything to happen until the 39th or 40th hour (or day) or even 41st. Furthermore, if you don't get what you were praying for, note what you did get. You may get something better. Even if you can't see any results at all, Cayce did say that when you don't get what you want, it doesn't mean that God has not answered you.
I hope this has helped.