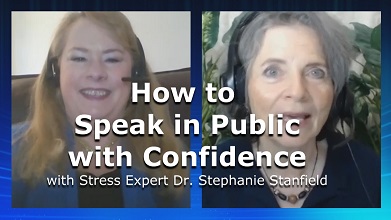 How to Speak in Public with Confidence with Stress Expert Dr. Stephanie Stanfield
How to Speak in Public with Confidence is the topic of a video interview by Carol Chapman of Dr. Stephanie Stanfield, also known as "Dr. Steph." She shows you a brilliant way of quickly and easily overcoming the fear of public speaking and developing public speaking confidence. (scroll down for the video.)
ABOUT DR. STEPH
Stephanie Stanfield, Ph.D., who is a stress expert and energy therapy practitioner, shares her vast experience and research of health, healing and stress management in an entertaining and educational format.
She lectures at the college level, is a Toastmaster, and has a private counseling practice.
In addition, Dr. Steph is the author of a series of Kindle books, "Stress Buster Secrets." The first in the series is called, "Shake Stress, Master Wellness," and is available on Amazon at http://amzn.to/2hA2qo8 [affiliate].
Click here or use this link, https://CarolChapmanLife.com/6bna, to schedule a free private session with Dr. Stephanie Stanfield. She'll be happy to help you discover how to speak in public with confidence.
VIDEO TIMELINE OF HOW TO SPEAK IN PUBLIC WITH CONFIDENCE

1:52.6 [Dr. Steph:] What public speaking fear is
2:52.9 [Dr. Steph:] Some of the things you can do
4:03.4 [Dr. Steph:] Let's talk a little bit about what stress is
5:00.5 [Dr. Steph:] When you get stressed, the blood leaves the thinking part of the brain
6:19.6 [Dr. Steph:] Beliefs actually become material of change in your body.
7:10.0 [Dr. Steph:] Change one word in that sentence.
10:04.7 [Dr. Steph:] Carol, what was your worst speaking experience?
10:43.8 [Carol:] (Coughing and choking) I'm thinking about it now.
11:43.9 [Dr. Steph:] Some of the things you can do before your speech.
13:05.3 [Carol:] I don't think I've ever heard this before.
14:52.4 [Dr. Steph:] Another key for letting go of the fear, "in the present moment"
15:29.0 [Carol:] I love this Russian opera singer, Anna Netrebko.
17:46.4 [Dr. Steph:] . . . changing belief systems, that's pretty easy to do.
Music: "Journey to the Heart," Bruce Zimmerman composer/ZimMusic Production Music Library, used with permission.
The links above may be an "affiliate link." That means that if you click on the link and purchase the item, Carol Chapman may receive an affiliate commission. Carol says, "Please understand that I only recommend products or services I believe will add value to my viewers. I am disclosing this in accordance with the Federal Trade Commission's 16 CFR, Part 255: "Guides Concerning the Use of Endorsements and Testimonials."